Save this post to your Kitchen Board on Pinterest!
Kitchen knife storage can be a pain point even in a well-organized kitchen. We want to store kitchen knives safe, accessible, and without getting the edge damaged. These three aspects are the most important to consider when choosing a kitchen knife storage method for your kitchen. It's something you definitely need to make a decision about when planning a new kitchen or a remodel, or just have to find a place for (new) knives in an existing, well-functioning kitchen.
Some of the links in this post are affiliate links and if you go through them to make a purchase I will earn a commission.
So what are the options?
There are four basic ways to store your kitchen knives. You can
store them on the counter in a block,
mount them on a wall with a magnetic strip,
store them in a drawer,
mount them under a cabinet.
The right choice depends on your needs. Often it helps to use a few different kitchen knife storage methods.
Storing your kitchen knives correctly keeps them sharp longer and improves the functionality and the outlook of your kitchen.
Kitchen Knife Care
Besides storing them properly, there is another thing you can do to extend the life of your kitchen knives: maintaining them correctly.
Maintaining has two key elements:
Sharpen them regularly.
Clean knives by hand and keep them out of the dishwasher. Be sure to dry them completely before storing, and don't leave them sitting in the sink.
Learn more about maintaining knives in this video:
Countertop Kitchen Knife Storage
Knife Blocks
Knife blocks sit on the counter and conveniently keep your blades close to your workstation for quick and easy access.
One of the main drawbacks of kitchen knife blocks is cleaning. The slots provide a perfect environment for dust, debris, mold, and germs. Getting into them can be very difficult, and if they're made of wood, you never want to put them in the dishwasher because the heat and water can dissolve the wood glue, ruin the finish, and crack the wood.
Another problem with blocks is that they can be rough on the edges. Sliding them in and out of the slots usually means contact with the wood, which tends to dull them quickly, so they need more frequent honing and sharpening. A solution to this is storing your blades on their spines and not letting the edges touch the wood when sliding in and out.

Universal Slotless Block
A better option for countertop storage universal slotless block. These blocks are filled with rubber or plastic rods that are attached to a base pad and will accommodate any size of blades. Another handy feature of universal blocks is that the rods can be removed as one piece and put in the dishwasher to be cleaned and sanitized. The block itself can then be washed by hand or in the dishwasher, depending on the materials it's made of.
This is a quick and easy DIY slotless block. Use a bottom-heavy jar or vase that won't tip over and fill it with wooden skewers or dried beans.
Or use old books:
Magnetized Block
Another countertop option is the magnetized block. Working on the same principles as a magnetic strip, a magnetized block is made of wood or several tiers of wood. It sits on the countertop and the blades sit flat on the surface. Magnetized blocks help to keep the kitchen knives sharp.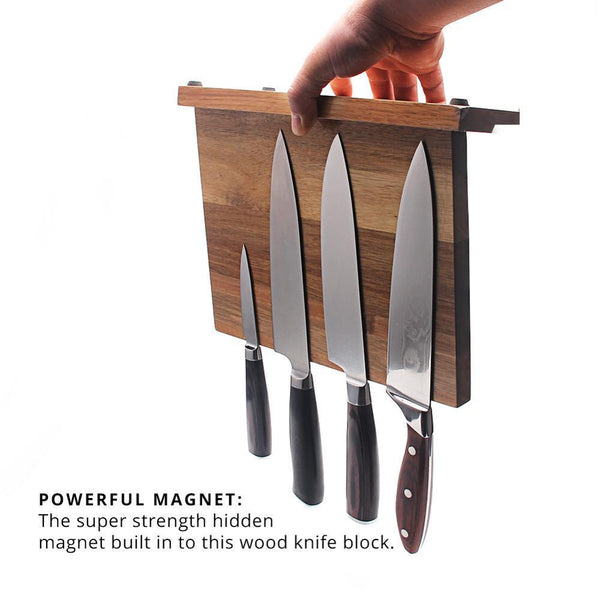 With each of these options take into consideration that some blocks will require a straight vertical lift while others will release blades on a diagonal plane. Diagonal options are better for storage under cabinets. A straight vertical lift requires considerably more space to free knives from the block.
Inserted Block
Lifting is not so much an issue if you decide to insert your knife blocks in the countertop around the sink. You can utilize dead under counter space with this option, and it's also safer than the on counter knife blocks. I love these ideas:
Wall Kitchen Knife Storage
Wall storage makes each knife easy to find.
If you have the space, a magnetic knife strip mounted on the wall above your counter is a great way to store your knives. It's a beautiful way to display your cutting tools. It looks stylish and saves counter space, too.
Wall-mounted magnetic knife strips come in metal and even wood finishes, so you can pick one that matches your kitchen decor. Also, they come in a range of lengths, so you can buy one that will hold the right number of knives for you, whether it's a short one that'll keep only your most-used knives accessible, or a long one so you can really load it up.
Magnetic wall strips are not only good for design but it's also one of the best methods to store kitchen knives because it's safe, convenient and keeps the knives sharp because it makes minimal contact with the cutting edge. It's also efficient, as it allows you to see all of your knives at a glance. You don't have to pull every single knife from the block until you find the one you want.
You can mount your magnetic wall strip on the wall above the counter, on a backsplash, or on the side of a cupboard or the fridge.
When placing a knife onto the strip, make sure that the blunt back of the blade touches the magnet first to avoid chipping the edge.
The magnet needs to be strong enough to hold the knives in place without slipping, but not so strong that it snatches the blade from your hand damaging the blade.
Buy the right magnetic strip or make one yourself:
Or you can make one from leather.
Drawer Kitchen Knife Storage
Drawers are a decent alternative if you have limited countertop or wall space.
Keeping kitchen knives in a drawer is one of the safest options. But not just tossing them into an empty drawer. Actually, that would be the least safe option for your fingers, for your children, and it damages your knives, too.
For safety, use drawer inserts, specially made for knives. A drawer dock will secure knives in place. For the greatest versatility, look for in-drawer holders with slots that can fit a range of sizes.
To increase safety, even more, apply child safety drawer locks.
The drawback of in-drawer units is that blades sit on the cutting edge, which can quickly dull them. Consider storing them on their spines instead as in the case of knife blocks, as well. Cleaning also can be a problem with drawer docks as well as with knife blocks. Blade slots can be tight, and collect debris quickly.
It's a great idea to install a pull-out cutting board right next to an organized knife drawer. It can make cleaning up super easy to deal with if you move a trash bin under the board to catch falling bits. Or have the bins right under your cutting board.
Under Cabinet Kitchen Knife Storage
Under-cabinet dropblock storage solution is great for freeing up space on the counter and in drawers. Storing kitchen knives under the cabinet means your blades are out of sight when not in use, and displayed at hand when needed.
Make the Right Choice
As you can see, you have many options to choose from. Take into consideration all aspects and choose the one that is the best for your family.
With many kids around, our priority is safety and then accessibility and care. So I'm all for under cabinet storage. My bad that it is the most expensive option. Currently, we have a slotless block type of solution. Anyway, I hope to have an under cabinet knife holder in our new kitchen.
What is yours? How do you store your kitchen knives?
Finally, watch this video about basic knife skills. We have to hone these for safety reasons as well:
Have a nice day and love your kitchen!
Save this post to your Kitchen Board on Pinterest!